[tcb_logo data-id-d='2′ data-css='tve-u-16d1f5ea4db' class="][/tcb_logo]
Ozone Generators
O3M: we are manufacturers of high quality Ozone Generators in full compliance with international production standards. Our ozone generators for environments and water are designed and manufactured to always obtain the best results at low cost.
The power of Ozone Generators O3M 
Corona Virus (Covid-19)
Ozone reduces the possibility of transmission of the virus, killing it on all surfaces, even the most hidden ones.
Sterilize and Sanitize
Bacteria, viruses, germs and parasites normally undermine the environments in which we live: ozone has the property of acting in the air or water, sterilizing and sanitizing thoroughly.
Deodorize
The Ozone generators are also designed and optimized for the hygiene and deodorization of recreational vehicles, caravans and boats.
Why use an Ozone generator? 
Air
Industrial and domestic ozone generators to sanitize, disinfect and deodorize. Suitable for all environments and sectors, even the most difficult to deal with and the most difficult situations to solve with the help of traditional solutions.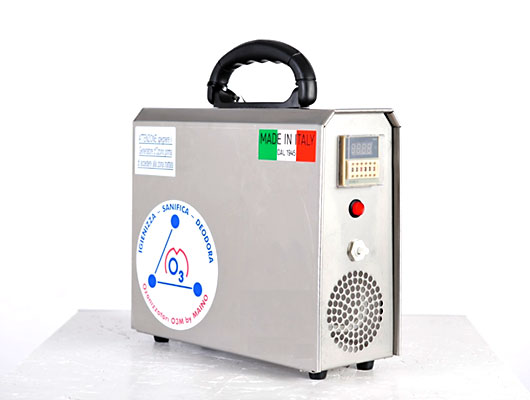 Water
For the hygiene management of swimming pools, spas, tanks, for the systematic elimination of legionella and many other elements such as: bacteria, viruses, protozoa and biofilms.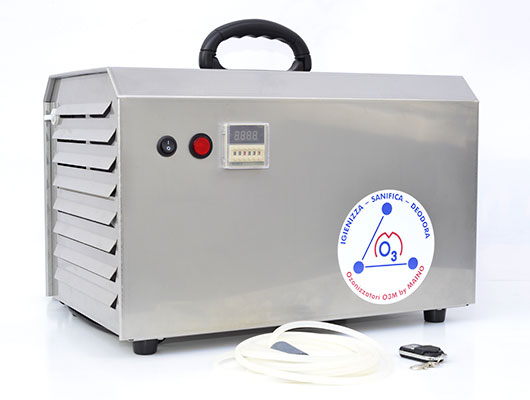 Cars and Caravans
Treatments to air and water in direct current provide adequate support of deodorization and sanitization, effectively penetrate the fibers of the fabrics and do not pollute the environment.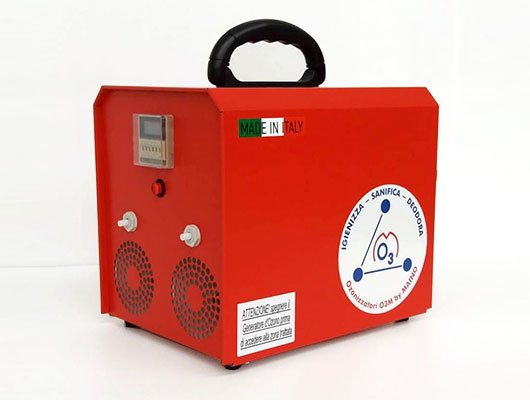 Why buy from a manufacturer?
O3M, today one of the few manufacturers of ozone generators to produce entirely in Italy, was founded in 1984 as a specialized unit of Maino Industries in the production of ozone generators, with the aim of creating a sanitation system with less environmental impact, to be used in place of the disinfection with Formaldehydes which has always been used in the poultry sector.
Quick Assistance
Our Technicians guarantee rapid intervention times and remote diagnosis to discover any problems in advance and intervene promptly.
Update & Build-Up
As manufacturers, we always offer the possibility of expanding the equipment and management systems, without having to completely replace them.
Fast Production
The utmost respect for production times from order to delivery to ensure installations in a short time and the start of productivity without delays.
Contact us
Our sales team is at your disposal to help you choose the domestic or industrial ozone generator that best suits your needs. 
ATTENTION: to help our team respond quickly to your inquiry,
enter in the message SQUARE METERS and HEIGHT of the environment to be sanitized.
The data provided will be processed by means of IT tools in order to follow up on your request.
NameSurnameEmailPhoneMessageRequest information
MAINO INDUSTRIES SNC – Since 1945
Via Roma, 42 – 22070 OLTRONA di SAN MAMETTE (CO) Italy
CCIA Como 0198979 – C.F. + P.I: IT-01555980133 – C.M. CO-022855
Tel. +39-031-891478 ; +39-3483424324 ; Fax. +39-031-891457
E-mail: maino@maino.it – Internet https://www.maino.it – Privacy Policy
The data provided will be processed by means of IT tools in order to follow up on your request. MAINO INDUSTRIES SNC, as data controller, ensures that the data provided will be used only for the purposes indicated (Privacy Policy), in full compliance with EU Regulation no. 2016/679 (GDPR).